We aim for a company able to continuously evolve and grow, and contribute to society through its technologies and products.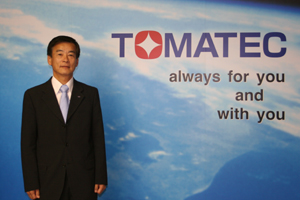 Our company, since its foundation in 1950, has provided many products such as glass frit products, Complex Inorganic Color Pigment, Bulk Mold Compound, Gelcoat for FRP, and micronutrient fertilizers, as well as resale of Chinese raw materials We have focused on expanding our business overseas.
We would like to extend our sincere appreciation to all of our customers, suppliers, and related companies because our continued evolution amid the shrinking domestic market is, to a large extent, thanks to their support.
The speed at which the world changes is ever-increasing, and the economy, increasingly global.
To keep pace with the times, we need to further streamline our operations, improve CSR management, introduce new products, and expand our overseas presence.
Keeping the spirit of TOMATEC <always for you and with you> in mind, we would like to grow together with our customers in this fast-changing era.
It is our mission to think in the future of Earth, contribute to the progress of society, and provide customers with reliable technologies and quality products in a timely manner.
I would be very much obliged for your further patronage and cooperation.
Hiroto Watanabe, President